Looking for a delicious and easy air fryer recipe? Look no further than this Air Fryer Pizza Rolls! This recipe is simple to follow and only requires a few ingredients. Plus, it's perfect for a quick snack or dinner. If you're looking for something new to try in your air fryer, then be sure to give this Pizza Rolls recipe a go!
The perfect snack is air fryer pizza rolls, which are so tasty that it leaves a print in your taste bud! Cooking pizza rolls in an air fryer is very fast, and they come out with the most deliciously crispy crust you've ever tasted in significantly less time than it takes your oven to preheat!
How to Make Delicious Air Fryer Pizza Rolls
Put them in the air fryer for a few minutes and you've got yourself a crispy, hot, appetizer that everyone will enjoy! They'll be nicely crisped and not soggy as they would if you microwaved them.
Air frying frozen foods is an excellent method to prepare them because it is so quick, yet they turn out very crisp thanks to the air frying. Air fryer curly fries, egg rolls, or mac and cheese bites are some other favorites to try. You may also make frozen pizza in the air fryer if you want more than a snack!
What is Pizza Rolls?
Pizza rolls are a tasty frozen treat prepared from pizza sauce and other ingredients wrapped in an egg roll/wonton wrapper, which are a common American culinary item. You may make homemade pizza rolls with mozzarella cheese, wonton wrappers, pizza sauce, and your favorite pizza toppings, keep reading for more!
Ingredients
Frozen pizza rolls: Any brand of frozen pizza egg rolls may be cooked using these procedures. Totino's pizzas are my favorite, but you might use Mama Cozzi's Pizza Snacks, Annie's Pizza Poppers, or Kroger Pizza Snack Rolls instead.
Extra virgin oil spray (optional): Although there is no need to add oil to pizza rolls cooked in an air fryer, giving them a light spritz of olive oil helps to ensure that they are extra crispy.
Note: try not to use generic 'cooking spray' because it may harm the non-stick coating on your air fryer.
Dipping sauce and toppings: Pizza rolls are delicious on their own, but dipping them in anything or slathering something over the top is the best! Tomato salsa, shredded cheese, Tomato sauce, and sour cream are all good options.
Directions
Step 1: Preheat the air fryer to 380°F (190°C).
Air fryers are sometimes said not to require preheating, but for foods with a short cooking time such as frozen food, I've had better success using a preheated air fryer.
Step 2: Fill the air fryer halfway with frozen pizza rolls.
Place the pizza rolls in a single layer in the basket. It's fine if they're touching, but overlapping or stacked up, and the cooking time will be longer; you'll have to shake the basket a few times during cooking to make sure they cook uniformly.
Step 3: Air fry pizza rolls.
Set the frozen pizza dough out on a metal tray, then place it in the oven. Flipping it over halfway through will give you two crispy sides. Remove and drain the rolls after 5-8 minutes, or when they are golden brown and crisp. Check on them frequently to make sure they don't get overcooked.
Step 4: Serve and enjoy!
As soon as they have cooled down enough to eat that's it! Enjoy with your favorite dip.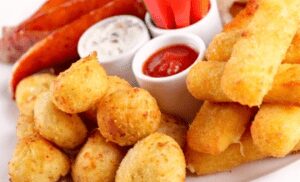 How Long Does it take to Cook Air Fryer Pizza Rolls?
It's difficult to get the cooking time correct the first time you try baking pizza rolls. The precise time required will be determined by a few elements, such as the capacity and features of your air fryer model and the number of pizza rolls you want to fry. If you have a powerful make of air fryers, like a Cosori, Philips, Chefman, Ninja Foodi, or Nuwave, expect cook times to be closer to 5 minutes. A less powerful type would need more time. I'd recommend checking once or twice during the cooking process after 4 minutes have passed.
You'll be able to tell if you overcooked the pizza rolls because they will burst during cooking and spill toppings all over your air fryer pan.
Serving
After they're baked to your liking, serve the pizza rolls with whatever dipping sauce you like. I enjoy ketchup and BBQ sauce, but sour cream and ranch dressing are also great alternatives.
Alternatively, if you're looking for some pizza roll dress-up ideas, try:
Sprinkle grated Parmesan cheese on the top when the fritters are removed from the air fryer but still hot.
Sprinkle with chopped pepperoni or bacon bits for a flavorful touch.
Serve them as nachos with chili and cheese, sour cream guacamole, tomato salsa, or whatever you like.
Drizzle pesto over the top.
Serve in a bun, or wrap with cheese and marinara dipping sauce for a Mexican dinner.
Storing and Preheating
It's easy to make your own pizza rolls at home, and you can save money by preparing them yourself. Prepare the dough according to package directions, then freeze it for a short time before rolling out the crust. Place cooked portions in a covered dish or container with paper towels on top and keep them in the refrigerator for up to 3 days.
To reheat the pizza rolls in the air fryer, simply crisp them for 2 minutes at 350°F. Alternatively, you may reheat them in a microwave oven for 30-60 seconds on high, but they will not be as crispy as if you do so in an air fryer.
FAQs and Tips for you
Is it possible to cook frozen pizza rolls in an air fryer?
Yes, frozen unless the brand's packaging instructions state otherwise should be used to cook pizza rolls.
What's the best way to make air fryer pizza rolls crispy?
You don't have to add any oil when air frying pizza your rolls, if you prefer them to be extra crispy, spritz them with just a little olive oil before cooking.
Do I need to spray the basket or use parchment paper?
I cooked them on the air fryer basket, and they didn't stick or burn. I wouldn't suggest using a cooking spray because it might alter the taste. If you don't have a nonstick basket, you can use a pastry brush to lightly coat the rolls with olive oil. The air fryer was not preheated.
I hope this piece gave you all the tips you need to make your delicious air fryer pizza rolls. No go make it!
Also, read Can You Cook Bacon in an Air Fryer? 4 Interesting Facts!